LENTEN DEVOTIONAL, DAY 39, SATURDAY, MARCH 27, 2021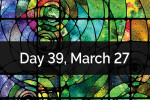 "Give to the one who asks you, and do not turn away from the one who wants to borrow from you."
Matthew 5:42 NIV
When I was asked to share a devotional this year, I struggled. Not because I was afraid to share, but because for the last 2 decades I have studied the Bible with other men on Saturday mornings. We have shared so much, yet it was hard to choose what I thought I have learned from the Bible that moves me more than anything.
Saturday evening the 23rd I am working in my garage on a small wood project for our kitchen and my cell phone rings. I remove the phone from my pocket and see the number and name "Pinky". This is my very good friend Emma "Pinky" Clifford from Manderson on the Pine Ridge Reservation. Pinky has called me once in the 5 years I have known her. This is only the second time as I normally call her. "Pinky" is a widow and in her early 70's. She is a highly respected Lakota woman. Pinky asks me if I would make her 4 feathers from Balsa wood for a gate on her property. She needs them to blow with the wind. I ask a few questions being very respectful of what she is requesting. I ask if her cousin, Sam Two Bulls, who is a Lakota artist, would send me a pattern. Sam is unable to make the feathers himself, they are to big. Our conversation goes on for almost 40 minutes learning more about life on the "rez" with COVID and travel restrictions and other family and friends details.
It dawned on me to search for a verse that sums up what I truly value of all the things God has given me. It is my time and my joy in sharing with anyone who asks or is in need food, money, or something I can make. I have learned so much more about how abundant my life is when I give. I ask no questions and I expect nothing in return. That is what the Love God has shown us is all about. Give with your heart and watch how it multiplies when you expect nothing in return. My friends on the Reservation have brought that to life for me with their kindness in return for respect and a gift here and there that helps them and their children. I am always welcome in their homes and to family events and in one case a very special and very somber family ceremony and a remembrance a year later.
My prayer is each of us would search our hearts for what God has provided to each of us, and think of ways to share that gift, that touch others with Love and encouragement and let it build strong friendships that mirror Jesus teachings. Amen